Downloads
On this page, you will find a lot of useful information about our retrofit bird protection solution. Learn how our solutions help protect birds from colliding with buildings and how you can retrofit SEEN Elements to your glass surfaces. Practical hints and tips will help you achieve a successful installation. Besides the detailed presentation and technical information about our SEEN elements, you will also find tips on cleaning.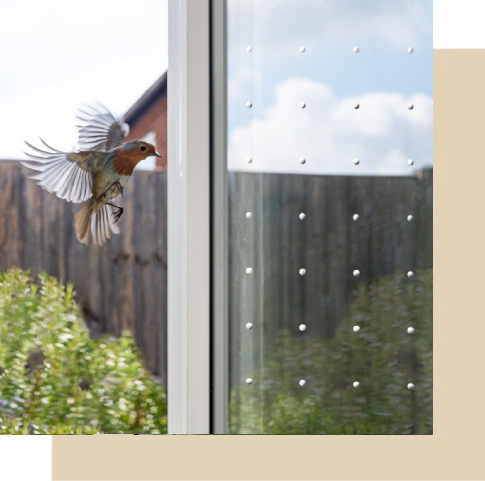 Bird protection on glass panes
SEEN Elements are the result of several years of development process. Our goal for this innovation was to keep the architectural effect of facades as well as glass surfaces and protect birds from collisions at the same time. Since 2019, the SEEN Elements have been tested and further improved every year in different grids and with a wide variety of glass structures.
Mounting instructions
It is possible to retrofit existing buildings without any issues. The dots, applied to a special carrier film, are applied directly to the clean glass surfaces. The handling is very simple and can also be carried out by private individuals without difficulty.
Product overview
In the product overview you will find details about the different variants and options as well as the individual test results.
Cleaning instructions
To ensure that your glass panes with SEEN Elements are always in the best condition, you will find important information on cleaning and care in this section. Learn how to clean your glass surfaces effectively and gently.
Test reports
The 9/90mm grids "SEEN shiny" and "SEEN matt" were tested in the flight channel of the Biological Station Hohenau-Ringelsdorf with different structures in the years 2019 to 2021. SEEN Elements performed exceptionally well in both the WIN method (mirroring) and the NPW method (see-through) test procedures, and they were classified as Category A - highly effective. The testers rank the product among the most effective solutions against bird strike tested so far with the WIN test set-up (including specular reflections on the pane surface) at the Biological Station Hohenau-Ringelsdorf.
You are welcome to request the complete test reports:
Contact
We hope that these documents will help you in the planning and implementation of your projects, and look forward to assisting you with your individual requirements. If you have any questions about any of our solutions for new construction projects, we will also be happy to assist you.